Meatloaf Recipe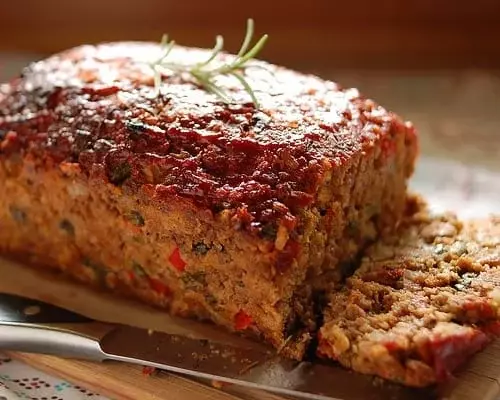 photo credit: epicurious


Meatloaf loaded with veggies (use what you like)
Ingredients
1 1/4 lb ground meat
1 medium yellow onion, diced
1 large zucchini, shredded
1 large celery stalk, finely chopped
3 medium carrots, shredded
1 red bell pepper, finely chopped
1/2 cup broccoli slaw, finely chopped
4 garlic cloves, minced
3/4 cup old fashioned rolled oats
1/2 cup unsweetened applesauce
2 tbsp tomato paste
1/4 cup liquid egg substitute
1/2 tsp paprika
1 tsp salt
1 tsp black pepper
Instructions
Preheat the oven to 350 degrees.
Melt your coconut oil or other preferred oil then saute the onion until softened, add in the carrots, celery, and bell pepper, and cook for another 3-5 minutes to soften the veggies. Remove most of the sauted veggies and add in the zucchini, broccoli slaw and garlic and saute about 3 more minutes. Let it cool a bit.
In a large bowl, combine the ground turkey, oats, egg substitute, applesauce, tomato paste, paprika, salt and pepper. Fold in the veggies. Really mix it up well, get your hands into it
Empty the mixture into your baking pan, and shape mixture into a loaf form with your hands.
Bake until browned and meat inside is thoroughly cooked – 45 to 50 minutes.
Remove from oven and let stand about 10-15 minutes. Cut into 6 equally sized slices.
Preparation time: 20 minute(s)
Cooking time: 1 hour(s) 15 minute(s)
Number of servings (yield): 6
Recipe by LaaLoosh.com., modified by me
Serving size is 1 slice of meatloaf
PER SERVING:
185 calories; 3g fat; 18 g carbohydrates; 27 g protein; 4 g fiber
Meatloaf
2 pounds ground beef
3/4 cup uncooked quick-cooking oats
1 medium onion, finely chopped
1/2 cup ketchup
1/4 cup milk
2 large eggs, lightly beaten
1 tsp salt
1/2 tsp pepper
Glaze
1/2 cup ketchup
3 Tb brown sugar
2 tsp mustard
1.) Preheat oven to 350 degrees.
2.) Combine the 8 meatloaf ingredients in a large bowl
3.) Shape into 2 (7-1/2 x 4") loaves.
4.) Place on a lightly greased rack in a broiler pan, (or if you don't have one, use a cookie sheet, like me!)
5.) Bake at 350 degrees for 40 minutes, and THEN...
6.) Combine glaze ingredients and spoon over meatloaf
7.) Bake 15 more minutes
From Cutting Coupons in KC:
Basic Hard-Boiled Eggs
Place the eggs in a single layer in a sauce pan. Add cold water to cover the eggs by 1 inch.Heat over high heat until boiling for 2 minutes.
Remove the pan from heat and cover. Let the eggs sit for 15 minutes.
Drain and place the eggs in a cold water bath and chill in the refrigerator.
8 Large Hard-Boiled Eggs
1/2 cup Mayonnaise
2 Teaspoons Yellow Mustard
1/4 cup Pickle Relish (Sweet or Dill)
1 Tablespoon Onion Powder
Salt & Pepper to Taste
Paprika
Cut the hard-boiled eggs in half and place the yolks in a bowl. Use a fork to mash the yolks and mix in mayo, mustard, onion powder, relish, salt & pepper until smooth. Spoon the mixture back into the eggs and sprinkle with paprika.
Heat oven to 450 degrees
1 Beef roast, any size and type
1 packet Lipton Onion Soup mix (or other such mix)
Place the above in a large roasting pan. Cook at 450 degrees for one hour then lower temperature to 325 degrees and cook for three to four hours. Add water to the pan as needed. If you are wanting to add vegetables for a complete meal, add the last 60 to 90 minutes of cooking time. Yummy!
Easy Chili
Cauliflower, chopped in small pieces
Broccoli, chopped in small pieces
Red onion, chopped in small pieces
8 slices fried bacon, chopped in small pieces
1 cup Miracle Whip dressing
½ cup sugar
¼ cup white vinegar
Blend well. Add bacon just before serving.


Basic Grilled Chicken Recipe
This is a simple basic (but still delicious) recipe for grilling chicken breasts. If you'd like to use barbeque sauce on your chicken to add more flavor, follow this recipe but wait to add the sauce until just before it is cooked through to prevent the sauce from burning.

If you prefer to use a marinade, that should be done prior to cooking. After you've marinated the chicken breasts according to your recipe, (or bottle directions) you can cook the breasts as follows.

What You'll Need
Boneless Chicken Breasts
Olive Oil
Salt and Pepper

*A Hot Grill

Directions
Pre heat your charcoal or gas grill to medium-high heat.
Rub Olive oil over both sides of the chicken breasts.
Sprinkle with salt and pepper to taste.
Place chicken breasts on the grill.
Grill until just cooked through, about 5 or 6 minutes per side- depending on thickness of breasts.
Remove from grill and serve.
Tequila Lime Chicken


Ingredients
1/2 cup gold tequila
1 cup freshly squeezed lime juice (5 to 6 limes)

1/2 cup freshly squeezed orange juice (2 oranges)

1 tablespoon chili powder

1 tablespoon minced fresh jalapeno pepper (1 pepper seeded)

1 tablespoon minced fresh garlic (3 cloves)

2 teaspoons kosher salt

1 teaspoon freshly ground black pepper
Directions
Combine the tequila, lime juice, orange juice, chili powder, jalapeno pepper, garlic, salt, and pepper in a large bowl. Add the chicken breasts. Refrigerate overnight.
Remove the chicken breasts from the marinade, sprinkle well with salt and pepper, and grill them skin-side down for about 5 minutes, until nicely browned. Turn the chicken and cook for another 10 minutes, until just cooked through. Remove from the grill to a plate. Cover tightly and allow to rest for 5 minutes. Serve hot or at room temperature.
Sweet Potatoes mash with pecans
Serves 4
Ingredients
2 lbs of peeled sweet potatoes;
½ cup soften butter, clarified butter or other paleo fat;
2 green onions, chopped;
1/8 tsp ground cinnamon;
¼ cup toasted pecans;
Preparation
In a large pot, bring water to a boil and cook potatoes until soft enough to mash.
Strain the potatoes and return them to pot. Add the butter and mash until all butter is melted and potatoes are smooth.
Add onions and cinnamon and mix thoroughly to ensure the cinnamon is dispersed evenly.
In a small skillet over medium heat, toast pecans. Once finished, add to the potatoes.
Slow Cooker Spiced Whole Chicken
From: www.AnOregonCottage.com
Slow Cooker Spiced Whole Chicken
4-5 lb. whole chicken
1 tsp. paprika
1/2 tsp. dried thyme
1/2 tsp. dried basil
1/2 tsp. garlic powder (or 1 tsp. minced fresh garlic)
1/2 tsp. onion powder
1/2 tsp. ground black pepper
1 tsp. salt
1/4 tsp. cayenne pepper (or to taste)
1 TB. olive oil
Combine and apply to chicken with a brush. See An Oregon Cottage for the complete printable recipe.
Chicken and Rice Casserole
Ingredients
6 Tbsp butter, divided
1/3 cup gluten-free all purpose flour such as Bob's Red Mill
1 tsp salt
1/4 tsp pepper
1-1/2 cups chicken stock (homemade is best)
1 cup whole milk
2-1/2 cups cooked chopped chicken
1 cup cooked brown rice
1/3 cup diced red or green pepper
Instructions
Prepare your rice according to the package.
When you're ready to assemble the casserole, preheat oven to 350 degrees.
Melt 4 Tbsp butter in a saucepan over medium-low heat. Then add the flour, salt and pepper, and stir until it's nice and bubbly.
Stir in the chicken stock and milk and keep stirring as it comes to a boil. Boil for one minute before removing it from the heat.
Stir in the chopped chicken, the rice, and the diced pepper.
Add the remaining 2 Tbsp butter, stir that in, and spread it into a buttered casserole dish.
Bake for about 40 minutes, uncovered, until it's bubbly and beginning to brown on top.
Serve with a veggie or a salad, and you've got dinner!
Roasted Red Pepper Hummus
ROASTED RED PEPPER HUMMUS
2 cans drained chickpeas
1/3 cup lemon juice
2 heaping tablespoons sesame tahini
4-6 cloves of minced garlic
11/2 teaspoon salt
1 teaspoon of ground cumin
1/4 or more of cayenne pepper
2 roasted red peppers from a can
Approximately 1 tablespoon olive oil
Blend in food processor or blender