Beef Nacho Casserole
Beef Nacho Casserole
Ingredients
1 lb of ground beef
1- 14 ounce can of diced tomatoes
1- 10 ounce can of corn drained
¾ cup sour cream
1 teaspoon of chili powder ( you can also use 1-2 tablespoons taco seasoning instead of the chili powder)
1 ½ cups of crushed tortilla chips
2 cups shredded cheddar or colby jack cheese
(you could also easily add beans to this also)
Cook beef until browned and crumbled. Drain grease and stir in tomatoes, corn, sour cream, and chili powder. Set aside.
In a 9x 13 or similar size pan, spread the crushed chips, then layer ½ of the beef mixture, then ½ cheese, then remaining beef and cheese.
Bake at 350 for 20-25 minutes or until heated through.
Serve and enjoy!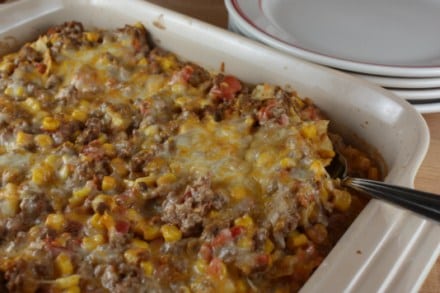 Lynn loves to cook and try new recipes. She lives in Oklahoma on 43 a


Read more: http://thehappyhousewife.com/beef-nacho-casserole/?utm_source=feedburner&utm_medium=feed&utm_campaign=Feed%3A+thehappyhousewife%2FuGIP+%28The+Happy+Housewife%29#ixzz145l0kZsq